What Is A Settlement Agreement? Frequently Asked Questions FAQs
A Settlement Agreement is a legally binding contract between employer and employee which usually brings the employer and employee relationship to a mutual end. A Settlement Agreement can also be used where the employment is ongoing, but both parties want to settle a disagreement that has risen.
If you have raised a grievance or are being subjected to investigatory or disciplinary procedures, an employer may want to agree to a settlement instead of them spending time carrying out the formal procedures, holding meetings, looking into the issues or carrying out lengthy redundancy procedures. Settlement Agreement is often used to save time and resources if they are agreed by mutual consent.
If a Settlement Agreement package is good enough to let you leave your employment then you will also avoid having to deal with e.g. with formal investigatory/disciplinary meetings, a performance improvement plan or even return to work meetings if you have been absent.
However you will need advice on the value of the Settlement Agreement package in comparison to what potential claims you will be giving up (and their value) by signing the agreement.
The benefit to you from a Settlement Agreement is that you have a legal document setting-out how much compensation your employer will pay you. It is quicker than pursuing a claim in an Employment Tribunal where there is always a risk you might not be successful.
The other advantage of the Settlement Agreement is that it may contain clauses regarding giving references for you on request and what the reference will say. This gives you peace of mind that any future employers will receive a reference from your current employer that will not contain anything negative.
This is entirely depends on the circumstances behind why you have been given/offered a Settlement Agreement. We can provide you with advice on what potential claims you may be able to bring, the strength of such claims, the prospects of success and the value of these claims if successful. You will then be able to make an informed decision on if you wanted to proceed with the settlement or try to negotiate for more. Please see our Settlement Agreement Flowchart for more help on how to calculate your package.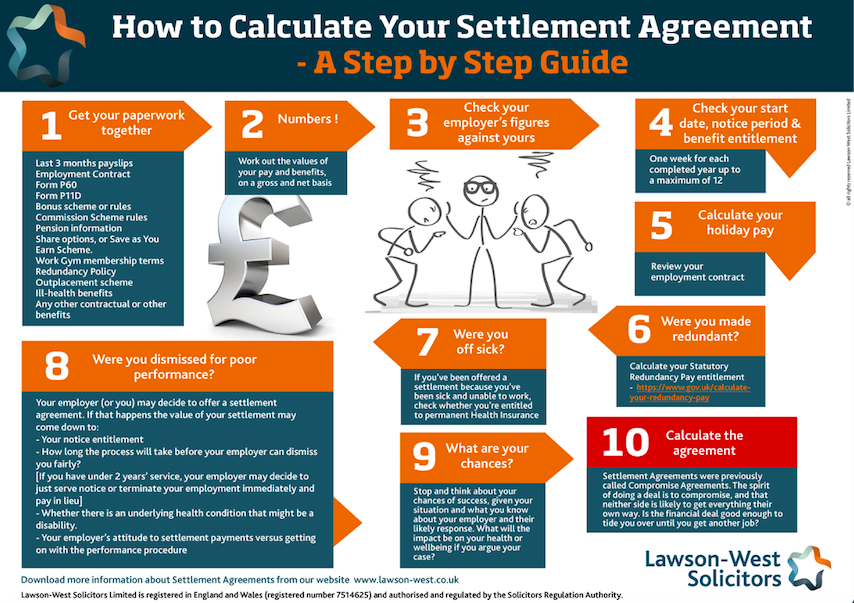 Most settlement payments under £30,000 can be made tax-free, but this will not apply to all payments. The tax treatment of payment in lieu of notice (known as PILON) and holiday pay is more complicated. You will need to discuss your particular circumstances with a solicitor for specific advice.
Employers will also require a tax "indemnity" clause as part of the Settlement Agreement. This means if HMRC decided there was any tax payable on the amounts you have received, you will be liable for the tax to be paid. These indemnity clauses often state that if HMRC claimed the tax from your employer, you would have to reimburse your employer.
Your employer will usually pay your legal costs for a Settlement Agreement, although your employer may set a limit so we will endeavour not to charge more than your employer has agreed to pay.
We also offer a free initial consultation so it will cost you nothing to find out where you stand and how we can help you with a Settlement Agreement. All discussions are in confidence and we will negotiate with your employer on your behalf.
More employers are using Settlement Agreements (formerly Compromise Agreements) when making employees redundant. Settlement Agreements protect the employer against the employees making employment tribunal claims for unfair redundancy procedures.
However, there are advantages for employees in signing a Settlement Agreement when being made redundant:-
Certainty of a settlement sum

Terms agreeable to employee and employer

Confidentiality about the terms of the redundancy package

Ensures references given to future employers will be given with agreed wording

Your employer will pay for legal advice you require before signing the agreement so you can be confident your settlement package is fair and the terms of the Settlement Agreement are fair to you at no cost to yourself.
If you've been asked to sign a Settlement Agreement, please contact us.
Once a Settlement Agreement is signed by all parties, it is a binding agreement in full and final settlement so cannot be re-negotiated. If you are unsure about or not happy with any terms in the Settlement Agreement, you should seek legal advice.
You do not have to sign a Settlement Agreement. We will advise you whether the Settlement Agreement is fair and what you are entitled to when your employer ends your contract of employment. We can also advise if you have a claim for unfair dismissal and whether you are likely to succeed if you make an employment tribunal claim. If you do not sign the Settlement Agreement, you would maintain your right to pursue an employment tribunal claim.
Each Settlement Agreement has slightly different clauses. A typical agreement would have:-
A breakdown of the payments you will receive when your employment contract ends and which sums will be free of tax.

Confidentiality clauses relating to your employment, confidential information you have been party to during your employment and also confidentiality about the terms of the Settlement Agreement.

You will usually be required not to make negative comments about your employer and your employer may agree not to make negative comments about your employment with them.

Restrictive Covenants – these are clauses that may stop you approaching previous clients on behalf of a new employer or stop you approaching your current employer's staff. If you have restrictive covenants in your current employment contract, these will be repeated in the Settlement Agreement. However, new restrictive covenants may be added so you will need legal advice to ensure you are not hampered from new employment or starting up your own business, depending on your plans.

References – you can agree what any future references will say

The Settlement Agreement will contain a list of statutes under which you will agree not to bring a claim. These will include the Employment Rights Acts, Discrimination Acts, etc. An employer needs to list these.
If you are unsure of or have any queries regarding terms in a Settlement Agreement, contact us to discuss the specific terms.
According to the Employment Rights (Dispute Resolution) Act 1998, advice regarding Settlement Agreements can only be given by a qualified lawyer, a qualified trade union official or a qualified advice centre worker, all of whom have to be covered by an appropriate certificate of indemnity insurance.
A solicitor will have indemnity insurance and will be able to advise you if the terms of the Settlement Agreement are right for you and whether the amount of compensation being offered is fair. Settlement Agreements can be packed with legal jargon and refer to Acts and Regulations so it is vital you understand the full implications of what you are being asked to sign.
Lawson-West Solicitors has a client charter promising to communicate with you in a jargon-free way. We can advise and negotiate any terms that may be unfavourable to you.
If the agreement is validly made (see above) and executed by everyone then yes, it is then a legally binding agreement. Where either party breaches its terms, the other will have a right to sue for breach of contract.
If your employer fails to follow the terms of the Settlement Agreement then the can amount to a Breach of Contract claim.

Once a settlement agreement has been signed by both parties, it becomes a legally binding document. If either party breaches the terms, the other will be entitled to make a Breach of Contract.
Our Dispute Resolution team will then be able to advise you on how they can help you enforce your rights under the Settlement Agreement.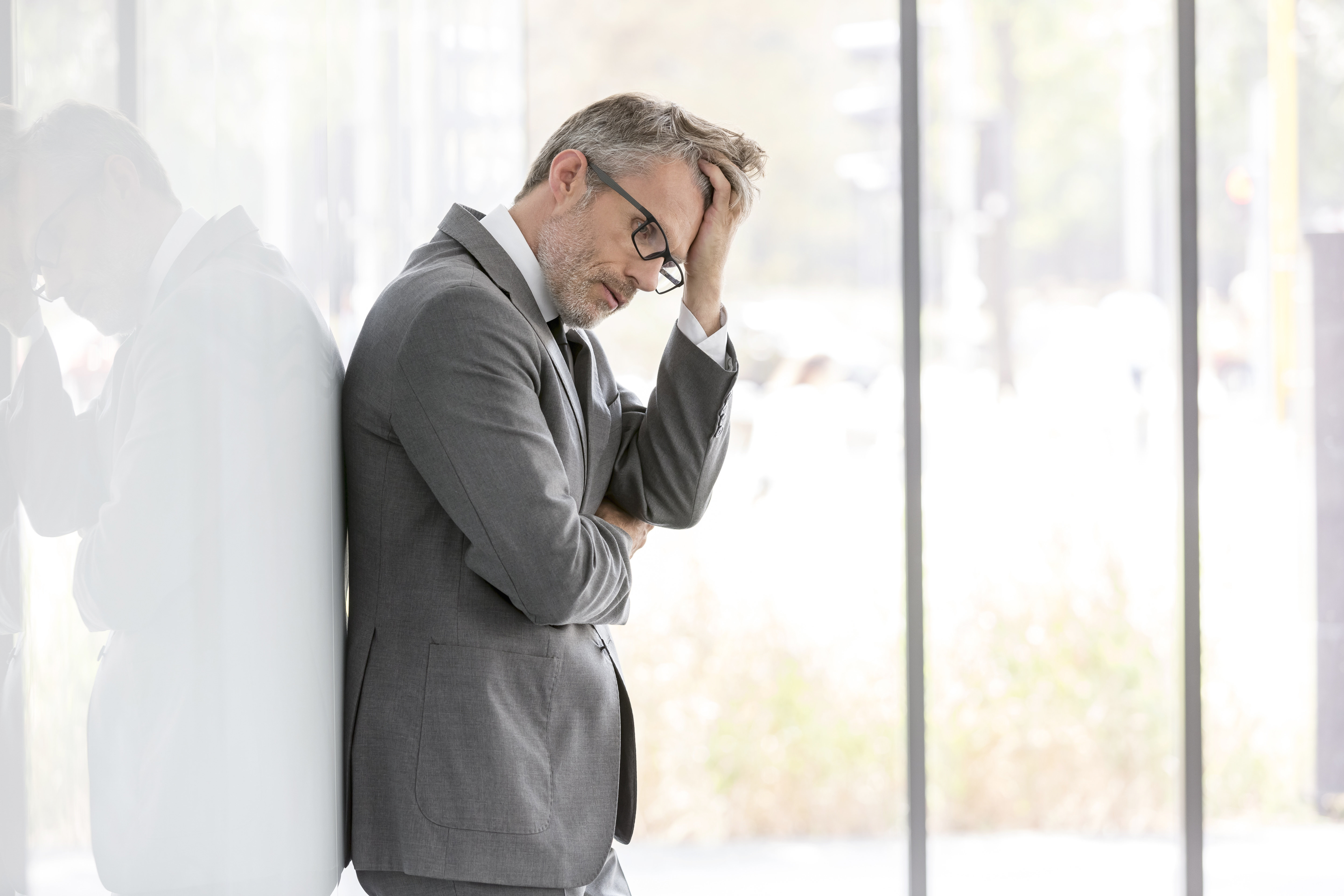 Still need clarity? Or want to discuss your Settlement Agreement with an experienced employment solicitor? Just complete our Contact Us enquiry form and we will get straight back in touch with you.
See our website pages on Settlement Agreements:
What is a Settlement Agreement?
Choosing Your Settlement Agreement Solicitor
What is the Settlement Agreement process?
10-Step Guide for Employees Calculating Employment Settlement Agreements
What to expect in a Settlement Agreement?
Implications of Restrictive Covenants
Ex-Gratia Payments in Settlement Agreements