What is a Settlement Agreement?
A Settlement Agreement is a legally binding contract between employer and employee which usually brings the employer and employee relationship to a mutual end. A Settlement Agreement can also be used where the employment is ongoing, but both parties want to settle a disagreement that has risen.
Get Your Settlement Agreement Legal Advice now
Contact us now on
0116 212 1000 or
01858 445 480
to speak to your Settlement Agreement Solicitor or complete our website enquiry form
and one of our solicitors will call you back
At Lawson West we are a significant team of experienced solicitors specifically trained in acting for employees who have been offered a settlement agreement to end their employment.
Don't Worry About Legal Fees
Our fees for providing advice and representation to you are generally covered by your employer so there is no need to worry about facing a large bill for working with us on your Settlement Agreement.
We Specialise in Settlement Agreements
With five solicitors who specialise in advising on settlement agreements, you have come to the right place. We act for employees from all sectors of the UK workforce including:
Multinational Retail Suppliers and Providers

The Professional Services sector including law, education, local and national government

The Finance sector including banking and investment services

Multinational food and drinks suppliers and providers.
More about Settlement Agreements:
For employers, a Settlement Agreement is a method of settling any potential claims that an employee may have against the employer and secures a 'clean break' for both employer and employee providing a practical and effective solution to the ending of a contract.
Settlement Payments
The Settlement Agreement should provide a breakdown of the payments being agreed and also state whether any are to be paid to the employee free of tax.
See our article on negotiating your settlement agreement here.
Payments of up to £30,000 compensation can often be paid without tax being deducted, if the payment is being made on an "ex-gratia basis" (that is, it's a payment you have decided to make rather than one you are legally obliged to make) or as damages to compensate for a breach of contract. However, this can be a tricky area and it's always advisable to obtain legal advice before committing to making a tax-free payment.
How much should be paid in a Settlement Agreement?
There is no set scale of payments and the amount depends on the individual circumstances of each case. Possible factors to consider are:
Service length of the employee

The circumstances around why you are offering a Settlement Agreement

The potential liability and cost of defending a claim in an Employment Tribunal.
10-Step Guide to Calculate Your Settlement Agreement
Calculating the sum of money you are owed is highly involved and there is a lot to take into consideration. Given the vast amount of details you need to check, we have put together a step-by-step guide that covers everything you need to think about.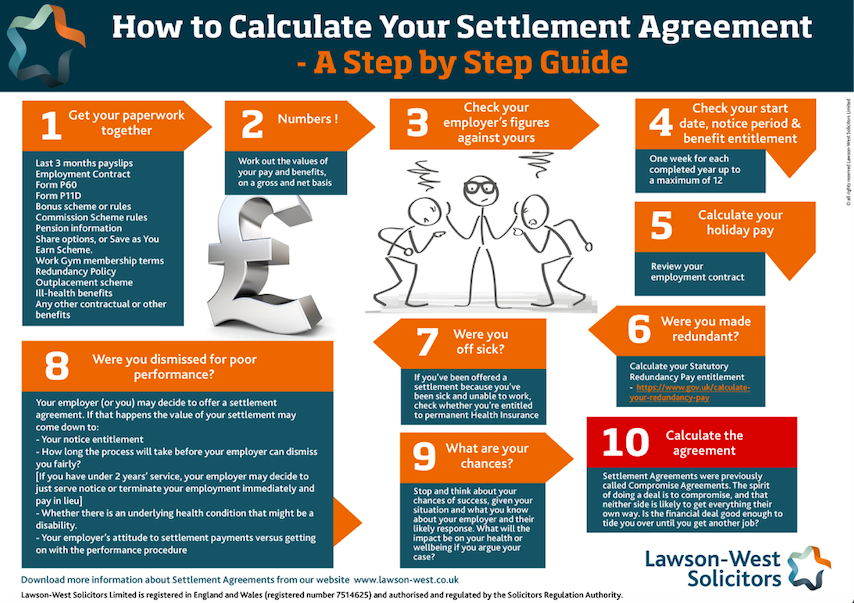 Click here to see settlement agreement flowchart
What non-financial terms can be included in a Settlement Agreement?
Often an agreed reference will become part of the Settlement Agreement. A clause in the Settlement Agreement will require the employer, when providing a reference for the employee, to not deviate from the wording of the agreed reference which has been agreed within the Settlement Agreement.
A confidentiality clause will also be included, requiring the employee to keep the terms of the agreement, the payment amount and the reasons for the Settlement Agreement confidential. There is also often a clause preventing the employee from making any derogatory comments about the employer.
The Settlement Agreement will also be clear about what is not included within the agreement, for example the employee does not give up any pension rights they have accrued and is free to pursue a personal injury claim in respect of any injury suffered during their employment, but of which they are currently unaware at the time.
Advantages of Settlement Agreements:
Avoids costs of tribunal proceedings

Sets out terms agreeable to both employer and employee

The employee has the certainty of a settlement sum

The employer is protected against employment claims

It is customary for an employer to pay the legal costs incurred by the employee, but only if the employee enters into the Settlement Agreement and the employer may limit costs to a specific amount.

At Lawson-West we recommend seeking legal advice should you have a potential claim made against you - to ensure you follow the correct procedures and do not miss anything that is crucial in the process. Claims can be very costly and need to be carefully considered early on.

Our employment team is able to provide the appropriate advice and guidance in relation to Employment Tribunals. We offer no-obligation initial appointments and can meet you at any of our office locations in Market Harborough or Leicester.
Please contact us on Tel: 0116 212 1000 or 01858 445 480, alternatively complete the free Contact Us form here and we will get in touch as soon as possible.
See other website pages on Settlement Agreements:
What is a Settlement Agreement?
Choosing Your Settlement Agreement Solicitor
What is the Settlement Agreement process?
10-Step Guide for Employees Calculating Employment Settlement Agreements

What to Expect in a Settlement Agreement?
Implications of Restrictive Covenants
Ex-Gratia Payments in Settlement Agreements