Complaint Procedure & Support
Complaints Procedure:
We are committed to providing high quality legal services and client care to all our clients.

When something goes wrong, we will try to put it right but in order to do this we need to be told about it. It is therefore beneficial to encourage clients to complain when they are unhappy with an aspect of Lawson-West. This in turn will help us to improve our service and our standards in general.
In order for clients to lodge a complaint we have a clear set procedure in place. This also takes into account the Law Society's guidance to complaints and the Legal Ombudsman's role.


Please refer to the 'Resolving a Complaint' sheet in conjunction with this procedure to understand the next steps to take and how the whole process works.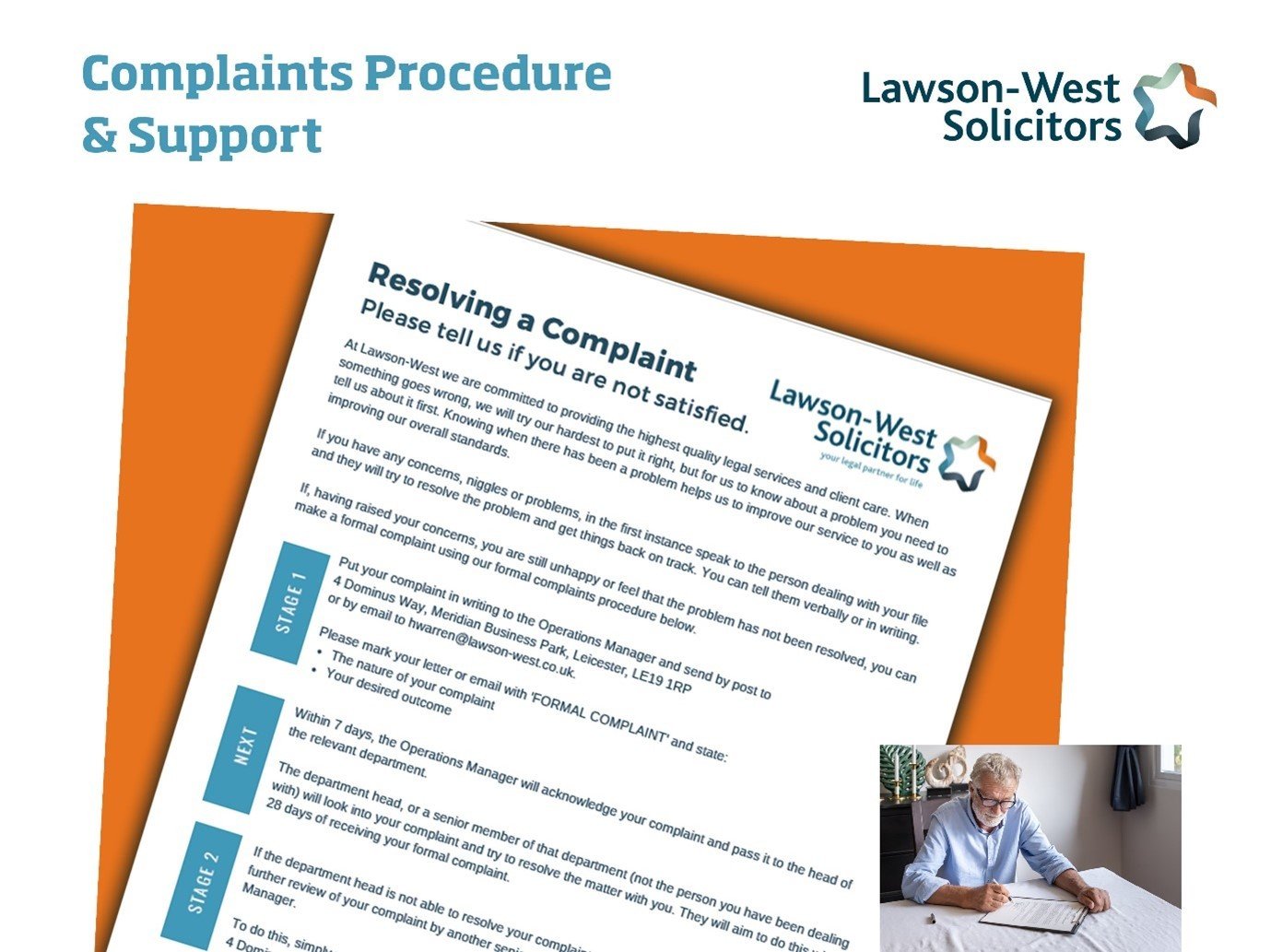 Useful addresses for complaint resolution purposes:

Lawson-West Solicitors Limited
4 Dominus Way
Meridian Business Park
Leicester, Leics, LE19 1RP
Tel: 0116 212 1000
Email: complaints@lawson-west.co.uk
Solicitors Regulation Authority
The Cube, 199 Wharfside Street
Birmingham
B1 1RN
Tel: 03706062555
Email: report@sra.org.uk
www.sra.org.uk - your right to complain and reportasolicitor
You should report your complaint matter directly to the SRA but only when you think a firm or anyone regulated by the SRA has breached an SRA Principle. Use the SRA Report-A-Solicitor form here when SRA Principles have been breached.
Legal Ombudsman
PO Box 6806
Wolverhampton
WV1 9WJ
Tel: 0300 555 0333
NGT Lite:
18001 0300 555 0333
Minicom text phone:
18002 0300 555 0333
Email: enquiries@legalombudsman.org.uk
Website: Home | Legal Ombudsman
If you have not received a response from us about your complaint, please check the email address you have used or email vthakerar@lawson-west.co.uk. If you have not heard from us after eight weeks, you can also contact the Legal Ombudsman about your complaint. They deal with cases surrounding poor service. The Legal Ombudsman provides an online Complaint Checker for new complaints; this is the quickest and easiest way to register a complaint with them at the end of eight weeks. You can also get in touch with them by email or post.