The Settlement Agreement Process


What is involved in the Process?
If an employer wants to end the employment relationship with their employee, they can both enter into an agreement where the employee will be paid a sum of money in exchange for agreeing not to bring any claims in a court or tribunal against their employer.
Settlement Agreements, (formerly known as a 'compromise agreement'), are now commonly used at the end of an employment relationship. A Settlement Agreement sets out a full and final agreement for the benefit for everyone involved in order to secure a 'clean break' at the ending of an employment contract.
Employers are also encouraged to have "protected conversations" on a "without prejudice" basis meaning that anything related to these pre-termination negotiations are not admissible in the proceedings.
Although entering into settlement agreements might appear to be straightforward, the legal principles and practical implications can be complex. As a minimum, the agreement should confirm and comply with the formalities set out in legislation in order to ensure it is legally binding on those involved.
These conditions include, amongst others, that the agreement must be in writing and the employee has received legal advice from an independent legal qualified adviser on the terms and effect of the agreement.
As a result of an employee taking independent legal advice, several issues will be raised such as:
How soon will the severance payment be made?

Who will be responsible for paying the employee's legal costs?

What happens about the contractual benefits e.g. the company car, the laptop, the mobile, the healthcare?

Is the employee entitled to outstanding holiday pay?

Should the employer be obliged to provide a reference?

What are the overall tax implications of the agreement?
Employers will also usually include provisions which restrict an employee from going into competitive employment or soliciting customers and employees for a period of time afterwards. Even if these restrictive covenants are already included in the employee's contract of employment, the employer is advised to restate them in the settlement agreement to ensure clarify.
Therefore, there will be a period of negotiation which explores what both the employer and employee will be able to agree to or dispute. Eventually if everyone uses a pragmatic and is realistic in the circumstances a compromise will be achieved. This is almost always achieved by using expert our settlement agreement solicitors.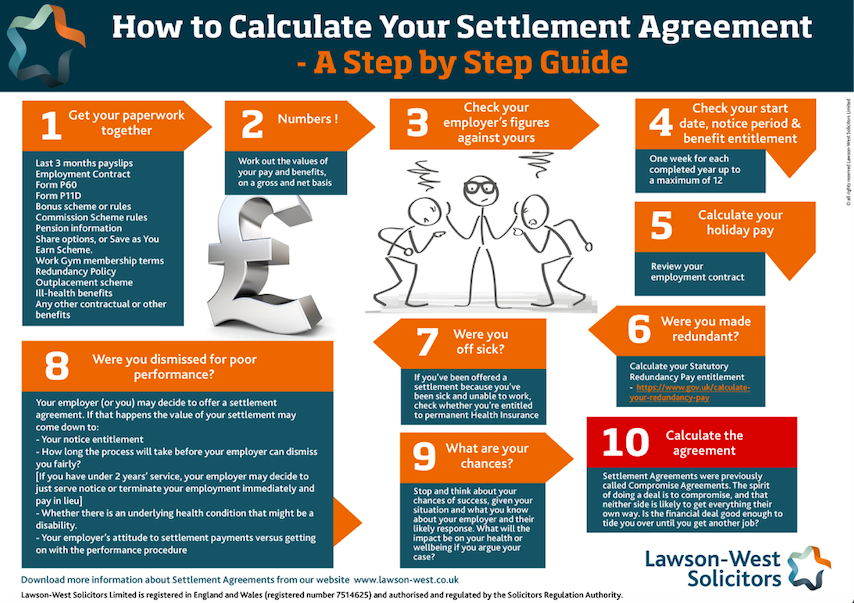 Click here to enlarge the settlement agreement flowchart

How can we help?
At Lawson-West our expert settlement agreement solicitors can help provide honest advice as well as pragmatic support through each step of the settlement agreement process. We can help protect your interests and your position during the negotiation to ensure you understand the practical implications of the settlement agreement terms.
Our Specialist Settlement Agreement Solicitors are available to provide the appropriate advice and guidance in relation to any aspect of settlement agreements or employment law.
Please contact us on Tel: 0116 212 1000 or 01858 445 480, alternatively complete the free Contact Us form here we will get in touch as soon as possible.
See our website pages on Settlement Agreements:
What is a Settlement Agreement?
Choosing Your Settlement Agreement Solicitor
What is the Settlement Agreement process?
10-Step Guide for Employees Calculating Employment Settlement Agreements

What to expect in a Settlement Agreement?
Implications of Restrictive Covenants
Ex-Gratia Payments in Settlement Agreements