Joint Ownership of Property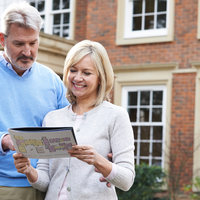 Your joint ownership options explained:
There are two ways you can jointly own property in England and Wales:
Joint Tenants

Tenants in Common
The way you own the property can have huge implications for your future so it is vital that you own it in the right way.
Owning as Joint Tenants
This way, neither of you owns an identifiable share of the property. You collectively own the whole thing – essentially you hold it in trust for yourselves. This means that when one of you dies, the property automatically passes to the survivor. It does not matter whether or not the deceased co-owner had a Will.
Owning as Tenants in Common
By owning this way, you each own an identifiable share of the property. Unless you have stated otherwise, this will be 50% each for 2 owners, 1/3rd each for 3 owners, etc.
You are each free to use your share in any way you want. You can give it away during your lifetime, or can leave it to someone in your Will. Owning as Tenants in Common, the property will not automatically pass to the surviving owner(s) so it is vital that you each have a Will.
Why is it important to own the right way?
You MUST own the property as Tenants in Common if:
You want to give your share to someone else

You want to leave your share under your Will

You want to put your share into trust for someone else's benefit

You want to engage in any inheritance tax planning

You want to plan for future care fees

You want extra flexibility in dealing with your assets
How do I know which way I jointly own the property?
If you don't know, the chances are you own as joint tenants. However, we can easily check this for you. All we need is to see your title deeds.
Can I change the way I own the property?
It is very simple to change from joint tenants to tenants in common. We would be happy to prepare the necessary paperwork and register the change at HM Land Registry on your behalf.
If we already own as Tenants in Common, can we change the shares we each own?
We would be happy to prepare the deed necessary to do this and can provide an estimate of costs on application.
How much does it cost to change to Tenants in Common?
If we are already carrying out other work for you, we only charge a nominal amount. Otherwise, we will provide you with a fair estimate of costs, depending on your circumstances.
If you would like to discuss this further, we would be happy to meet with you and discuss your particular needs and circumstances in more detail. We aim to provide a quality service that is personal to you and your circumstances. We have a dedicated team who have expert knowledge and who will be there every step of the way to help you face life's challenges.