Wills and Probate
Why make a Will?
Leaving a Will means you can be sure that everything will be dealt with in the way you wish following your death. Making a Will gives you enormous peace of mind.
If you don't make a Will, the Intestacy Rules will govern how your estate is divided up. They determine which of your relatives receives how much which can lead to some nasty surprises. The Intestacy Rules do not provide at all for your friends or even for a partner who you may have lived with for years - they will inherit nothing. Under the Intestacy Rules, your step-children are not counted as your children and will not inherit anything either. It is only by making a Will that you can specify who will get what amount, and at what age they may inherit.
You can also appoint Guardians in your Will so that your children will be looked after by someone who cares for them. Without a Will, family members may have to go to court to get permission to look after them. While this is sorted out, your children may go into temporary care.
Executors will need to be appointed to deal with the practicalities of your estate. If you don't make a Will, you have no control over who this will be, although it is usually a family member. You may prefer to appoint a professional, such as a solicitor or accountant - someone who will not be suffering the distress of bereavement.
Why Use Lawson-West?
We have specialist advisers who can make sure your Will is tax-efficient and can explain the legal jargon in understandable terms.
How to protect your family and finances during separation seminar.
Wednesday 27th March 2019, 10.00am until 11.30am, Leicester Office.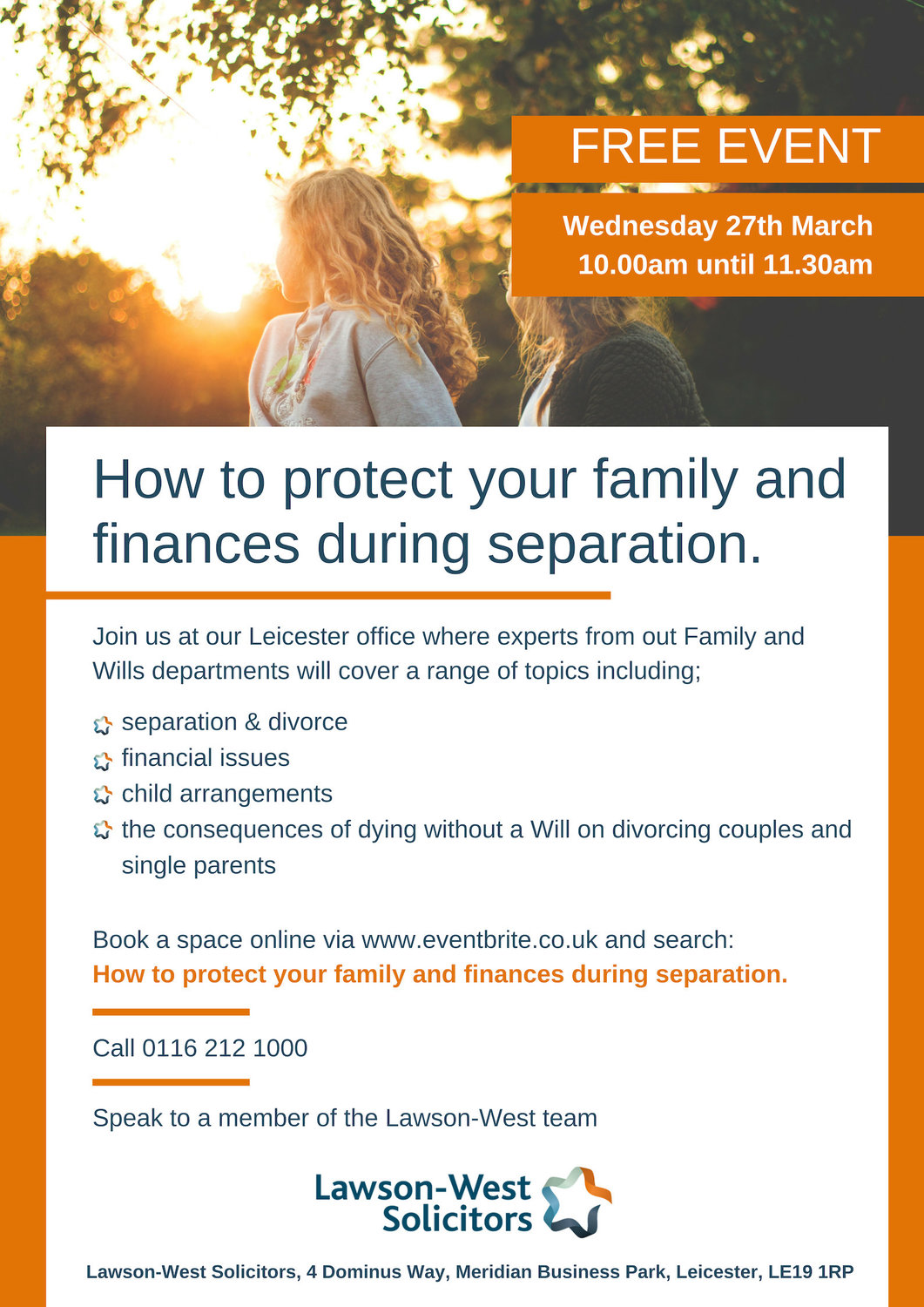 What our clients say
Personally dealing with Mrs Brown, she was very approachable.
Friendliness, knowledge and understanding of complex family relationships.
Christian Jenkins warm approach, excellent service.
Phoebe was so kind and helpful, explaining everything to me.
Miss Tranter took her time to explain everything to me and answer any questions I didn't understand, may I thank her for taking her time with me.
Excellent service throughout.
My daughter and I were dealing with Vicky Jones, she explained things very clearly to us and she was kind and caring.
Victoria Jones helped me by sending everything by post. She made it very clear what I had to do in completing the forms, was really helpful.
As ever, the personal touch that Elizabeth provides is very much appreciated.
I like individual attention.
View all