Vicky Jones Celebrates 25 Years!
01-07-2022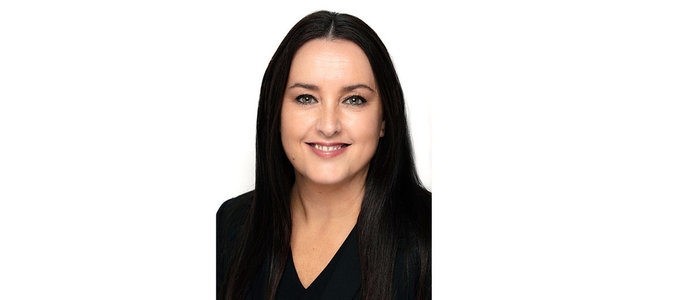 Aiming High
If you want to achieve something in life, they say 'Aim High'. Well, that's just what Lawson-West Board Director and Solicitor Vicky Jones has continued to do throughout her 25-year career.
Vicky is now a Board member and a Director of the firm and has recently studied for and achieved her full STEP membership, passing her Diploma with Distinction.
High Achiever
Vicky worked at Lawson-West in the late 1980s/early 1990s as a teenager after school and during her summer holidays. She went on to graduate from the University of Leicester in 1996 with a degree in Law and completed the Post Graduate Diploma in Law and Legal Practice with distinction in 1997 having completed the Legal Practice Course.
Vicky joined Lawson West as a Trainee Solicitor in 1997 and qualified as a Solicitor in 1999. Her early career started as a specialist in the bustling Personal Injury department (a service the firm no longer provides) and she went on to lead that team and the thousands of client injury claims handled each year. Vicky was promoted to Partner in 2003.
After 17 years specialising in Personal Injury litigation, Vicky changed direction and joined the Probate, Wills and Trusts team at Lawson-West and then became head of that team in 2017.
Vicky has remained with the firm ever since qualification, completing several professional development courses in probate and estate administration over the years, all of which she excelled at.
Vicky has handled all types of estates from small and simple to complex taxable estates, preparing Wills and Lasting Powers of Attorney, Will Trusts and making applications to the Court of Protection.
Under Vicky's tenure, the Probate, Trusts and Wills team has gone from strength to strength in terms of integration, income performance, staff wellbeing, community activities and personal performance:
increasing the number of will matters handled.

Increasing the number of wills held for clients in our Will Bank.

instrumental in helping to manage the Brown & Company Solicitors merger of 2018 including systems integration, taking on more clients, growing income for the firm.

managing a team of 11 legal probate and wills professionals.

supporting community activities, talks, presentations and other pro bono work, as well as sponsoring the Leicestershire Care Awards in 2022, celebrating Leicestershire care professionals in nursing and care home across the county.
Vicky added:
"A large part of my role over the past 5 years has involved leading our Probate, Wills and Trusts team to grow and develop and to support clients during very difficult times in their lives. I'm now very proud to see solicitor Phoebe Skarlatos promoted to head of that team, as I transition to be a fully occupied member of the firm's board where I am increasingly responsible for strategic decisions, compliance (Compliance Officer for Legal Practice), recruitment and training, as well as director responsible for all IT systems and instrumental in overcoming all obstacles and issues relating to the above."
"I never imagined in my teens that I would stay at Lawson-West for over 25 years – it's just amazing. My career has constantly changed and developed over the years and I'm always facing new challenges that have to be overcome. Strategic problem solving and working with teams comes naturally to me and I have always found that working at Lawson-West to be very fulfilling and rewarding personally. My career has been full and I'm excited to see what the next 25 years has in store for Lawson-West and to be an important part of our future direction. We have big plans and mountains to climb."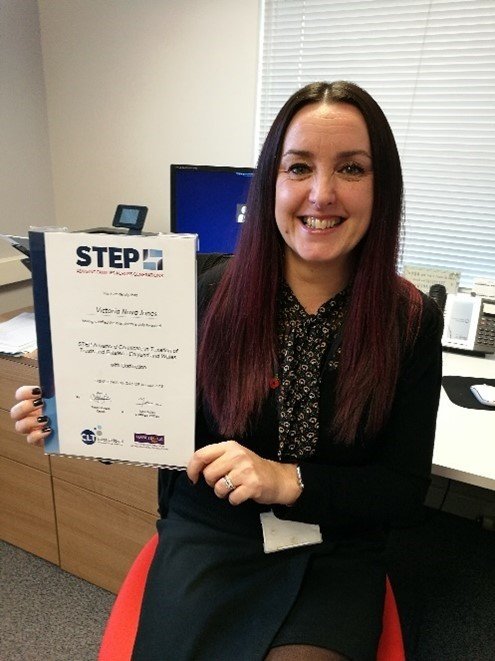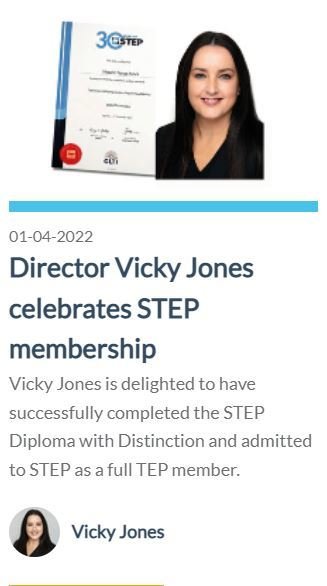 Vicky Jones, achieving Distinction in her STEP examination (Society of Trust and Estate Practitioners) for 'Taxation of Trust and Estates' (known to be the hardest paper) and the Diploma in 2022.
View all