Nobody to blame? Plans are unveiled to reform Divorce Legislation.
25-09-2018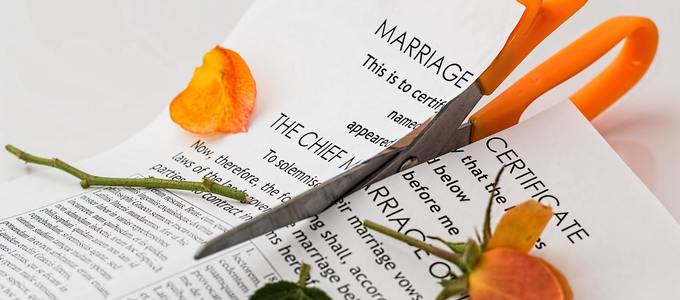 To help overcome an ever increasing 'blame' culture in today's society, isn't it time that we removed fault from divorce?
The Government has announced plans to reform divorce laws, something that hasn't been updated in 50 years despite colossal changes in modern society. In the past 50 years there has been a sharp rise in the number of marriages ending in divorce and the process is often unpleasant for those involved. Considered 'archaic' the reform is being welcomed by many.
What is the current divorce legislation?
Under current law, in order to be eligible for divorce, the couple must meet with the one ground for divorce. The marriage has to have broken down irretrievably with no possibility of reconciliation. In England and Wales an individual seeking divorce must either prove their partner is at fault through adultery, desertion or unreasonable behaviour, or, alternatively if the decision is mutual, they can part after 2 years of separation. If the other party does not consent to the divorce or there is no evidence of fault, the applicants must then wait until they have been separated for 5 years.
What are the proposed changes to the current divorce legislation?
The long-awaited reform of divorce law looks to potentially remove the element of fault from the process along with removing the need to show evidence of the other spouse's conduct, or a period of living apart.
Justice secretary, David Gauke, has said that couples wishing to divorce should benefit from a less confrontational process. "Marriage will always be one of our most important institutions, but when a relationship ends it cannot be right for the law to create or increase conflict between divorcing couples. That is why we will remove the archaic requirements to allege fault or show evidence of separation, making the process less acrimonious and helping families look to the future."
A new notification process is also being proposed to allow individuals to inform the court of their intent to divorce, whilst removing the opportunity for the other spouse to contest it.
The consultation will also evaluate the timeframes involved in the process of divorce. At present, once the Decree Nisi has been pronounced a cooling off period of 6 weeks follows and once this time has elapsed only then can the Decree Nisi be made Absolute. The Decree Absolute declares the marriage fully dissolved. An assessment of the minimum timeframe is being ordered because it is deemed a valuable time for couples to reflect on the decision of divorce and allows agreements and arrangements to be reached for the future where divorce is inevitable.
Seeking advice on Divorce and Separation
The consultation is taking place in December, so we have to wait until then to see what happens. However, having remained unchanged for so long, the government is under increased pressure to act and reform the out of date law.
If you would like further guidance regarding Divorce or separation, contact our Family Team who can offer you the support you need. You can visit any of our three offices for an initial no-obligation appointment.
Call 0116 212 1000 to contact our Leicester office, for Market Harborough call 01858 445 480 or 0116 212 1080 for Wigston. Alternatively, complete an online contact form and we will contact you directly.
View all