Lawson-West's 12 Tips of Advent #8
01-01-2018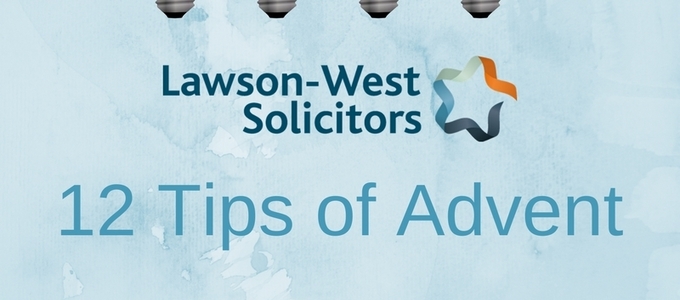 From December 25th 2017 until January 5th 2018, Lawson-West Solicitors present you with our 12 top tips to ensure you and your family have the best festive period possible.
Our team of Solicitors consists of dedicated specialists and lawyers who deal with Employment law, Family law, Wills and Probate, Residential Conveyancing, Commercial law and Dispute Resolution. Each team has vast experience collectively and have wide, in-depth knowledge of all possible matters and disputes.
You can be assured Lawson-West's Solicitors keep up to date with the latest legal developments and changes to bring you the best advice.
With offices in Leicester, Wigston and Market Harborough we are local, available and aim to be your legal partner for life.
If you are selling a property on behalf of a deceased person, make sure you have all your paperwork in order, for example Grant of Probate, for the sale to progress smoothly and quickly and most importantly, to avoid disappointment.
Call our Residential Conveyancing team on 0116 212 1000 to speak to one of our experts
View all