Equal Pay in the Workplace
17-09-2018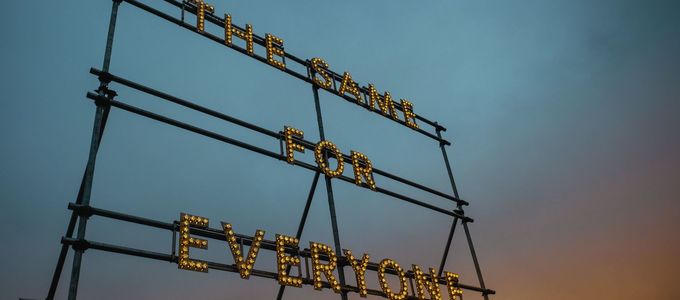 Is it time to tackle the problem of equal pay for work of equal worth?
It is considered that individuals doing the same job or work of equal value should receive the same or equal pay; but in many cases they do not, despite the law saying otherwise. Shockingly this is the case with the 1,000 current and former employees of Tesco who back in July 2018 lodged claims to the Employment Tribunal for equal pay.
Tesco's Equal Pay Claims
In this case the claims are about ensuring that the work done across the various departments within Tesco are recognised as being equal. Having nobody manning the shop floor is as detrimental to the organisation as nobody manning the distribution centre, therefore it is believed that the individual's roles are of equal importance and thus it should be reflected in their earnings.
The claims largely relate to those working on the shop floor being paid a lower wage of £8 per hour compared to those working in the distribution centres that are paid on average £11.00 an hour. The argument being that both roles play an essential part towards the overall success and running of the business but this is not being reflected in their pay. To add to the complexity of the case, it could be argued that there is an element of gender discrimination involved too because whilst the shop floor comprises of mostly female workers, the distribution centres are male-dominated.
It is believed that one quarter of a million Tesco employees may be eligible to make a claim. With 1,000 claims having already been made, the number of Claimants is only set to rise. It is estimated that if the claims are successful it will potentially cost Tesco £4bn in compensation because the Claimants will be entitled to back payments in addition to the increased wages moving forward. This will undoubtedly have major consequential affects on Tesco but as a larger employer they may be better placed than others to absorb such an award. If these circumstances were replicated in a small to medium size company the impact on such a legal decision could be monumental, potentially forcing many companies to close.
Making an Equal Pay Claim
The law states that employees can compare any terms in the contract of employment with the equivalent terms in a comparators contract. A comparator is an employee of the opposite sex working for the same employer, doing like work of equal value. The Equality Act 2010 makes it unlawful to prevent employees from having discussions to establish if there are any differences in pay.
If you discover that you are not being paid equally, your employer is breaking the law. To address this issue about being treated or paid fairly, you can talk, or write to your employer to try to resolve the issue. If this doesn't work, you should then look to make a claim for lost earnings where an Employment Tribunal will establish if there is sufficient ground for compensation to be paid.
Carrie-Ann Randall from our Employment Department is experienced in presenting such claims to the Employment Tribunal. Carrie-Ann states "Equal Pay can be a difficult process but not one that should be avoided. We all deserve the right to be paid correctly for the work we do regardless of gender or the misguided believe on the importance of the role within the organisation"
At Lawson-West Solicitors our Employment Department can support you with this type of claim. Please remember there are strict time limits in Employment claims and you should take legal advice as soon as possible.
In addition to No Win No Fee, Lawson-West solicitors act for clients on a variety of other funding arrangements including Legal Expenses insurance funding. We can assess your case to decide which is the best funding option for you.
With offices in Leicester, Wigston and Market Harborough our employment solicitors and lawyers can discuss your employment law claim at any of our office locations. In addition, we are a national provider of expert employment law advice and welcome a free discussion with you regarding your circumstances and potential claim. Call 0116 212 1000 for more information. We look forward to speaking to you to discuss your helping with your employment claim.
View all