Lawson-West supports Welland Park Academy Careers Evening
14-10-2019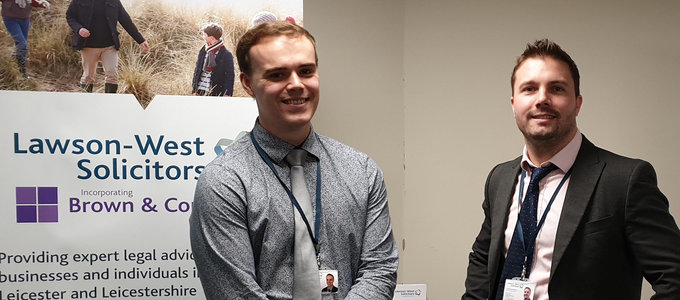 Ashley Hunt (Director, Employment), Christian Jenkins (Associate, Probate & Wills) and Joe Weston (Trainee, Employment) attended the Welland Park Academy careers event on 10 October.
The evening careers event for students and parents was hosted by Welland Park Academy at the school in Market Harborough. It was attended by several hundred people and many employer and university exhibitors took part to provide ideas, discussion and guidance to students who are at the important stage of considering the next steps in their career path.
Lawson-West Solicitors was one of the exhibitors and Ashley Hunt said of the evening:
"Christian, Joe and Myself are all delighted and pleased to take part in the careers evening. Each of us work in the legal field and each of us has had a different route to entry as well as all of us being at different stages of our careers - from traineeship right through to Director level. We have a good overview of the career development and training needs for would-be lawyers and those wishing to join the legal profession and we wanted to lend encouragement and practical experience to others."
View all