"It's beginning to look a lot like Christmas"...but I bought the wrong thing! Consumer Rights explained when buying in shops and online.
10-11-2023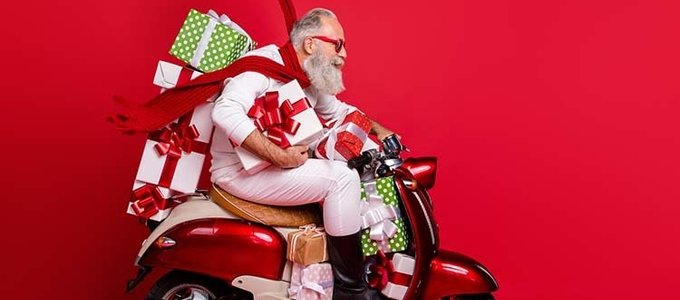 This time of year we find ourselves spending more of our hard earned money on buying gifts, and knowing your Consumer Rights is extremely important as things slightly changed after October 1st 2015.
What changed?
The Consume Rights Act (CRA) replaces three major pieces of legislation:
The Sale of Goods Act

The Supply of Goods and Services Act

Unfair Terms in Consumer Contracts Regulations
The CRA applies to contracts and notices between a "trader" and a "consumer" in relation to goods or services purchased on or after October 1st 2015.
When you are Buying in Shops
Goods or services purchased before the above date will be subject to the old laws (Sale of Goods Act etc.)
Under the CRA, all goods must:
Be of a satisfactory quality and of a standard that a reasonable person would regard as satisfactory.

Be fit for a particular purpose. When you indicate that goods are required for a particular purpose, or where it is obvious that goods are intended for a particular purpose and a trader supplies them to meet that requirement, the goods should be fit for that purpose.

Match the description, (which would mean to a sample or model). If you are relying on a description, the goods supplied must conform to it. If the goods do not conform, an offence may have been committed.

Be installed correctly (where installation has been agreed as part of the contract).
Under the CRA, all contracts for services must abide by the following:
The trader performs the service with reasonable care and skill.

Information which is said either in person or in writing is binding where the consumer relies on it.

Where the price is not agreed upon beforehand, the service must be provided for a reasonable price.

The service must be carried out in a reasonable time.

If this criterion is not met, the consumer may be entitled to the following remedies:
The trader should either redo the part of the service which is inadequate, or perform the whole service again, at no extra cost to you, within a reasonable time and without causing significant inconvenience;
In circumstances where the repeat performance is impossible or can't be done within a reasonable time or without causing significant inconvenience, you can claim a price reduction.
Depending on how severe these failings are this could be up to 100% of the costs
When you are Buying Online
There had previously been a big hole in the old consumer laws as they did not deal with digital content, such as music downloads or anything else supplied in digital form. There was no such thing when most of the laws came into existence in the 70s and 80s. The CRA recognises digital content and says that such content must be:
Of satisfactory quality

Fit for a particular purpose

As described by the seller
If digital content does not meet these standards the consumer has the right to a repair or replacement. If this doesn't fix the problem, the customer can ask for a price reduction. Retailers will have to provide compensation if any device or other digital content, owned by the consumer is damaged because of the digital content downloaded.
It is important to remember that retailers are responsible
for goods until they are in your possession.


Addressing the issue of Late Deliveries
Retailers need to deliver within 30 days, or on the date that has been agreed. If they do not the following applies:
If it was essential that it was delivered on time, you can terminate the purchase and get a full refund.

If the delivery isn't time-sensitive but another reasonable delivery time cannot be agreed, cancel the order, and get a full refund. The Consumer Contracts Regulations still apply to items bought online so you have 14 days to return goods, no questions asked.

Dealing with the issue of Contracts
Things are now banned from being hidden in the "small print".
The CRA means all contracts must now clearly state the main parts of the deal and outline the price in a transparent and prominent way.
The terms must be in plain language and, if written, in a format which is easily understandable.
The terms must be prominent so your average consumer would be aware of them.
Key terms cannot be hidden in pages of terms and conditions that requires you to have a magnifying glass to read. Terms other than those specifying the main elements of the contract and setting the price will be classed as unfair if:
They are contrary to the requirements of good faith. They must be designed, negotiated, and entered into with you in a fair and transparent way; OR

There is a significant imbalance between the rights of the retailer and you as the consumer to the detriment of you.
The CRA provides a three-tier approach to remedy matters when things go wrong:
Tier 1: The short-term right to reject
If, when supplied, the goods do not meet the purpose they were bought for, there is a period of 30 days (following purchase or delivery) in which you are entitled to reject them.
In this case, you can claim a refund which must be given without undue delay, and in any event within 14 days of the trader agreeing that you are entitled to a refund.
Tier 2: Repair or replacement
When there is a breach of contract, but you have lost or choose not to exercise your right to reject goods, you will be entitled to claim a repair or replacement.
The trader must do this at no cost, within a reasonable time and without significant inconvenience.
Tier 3: Price reduction and the final right to reject
If repair or replacement is not available, or is unsuccessful, or is not provided within a reasonable time and without significant inconvenience, you can claim a price reduction or reject the goods.
Where repair or replacement fails, you choose whether to keep the goods or return them. If you decide to keep the goods, then your claim is for a reduction in price; if you return them, you are rejecting them.
If you find yourselves in difficulties after following this advice, please do not hesitate to contact the Dispute Resolution Team at Lawson West who will be happy to offer an initial discounted meeting to provide advice and assistance.
View all