I Can't Believe I've Been Made Redundant! – Trudi's Story of unfair redundancy
28-04-2021
My Redundancy Shock
I know redundancy is now common-place, but I really didn't think it would happen to me.
I was invited in to see my boss on Friday morning, expecting to discuss recent work targets, but when I went in, he was sitting behind his desk and sitting next to him was our HR Manager.
I immediately knew something official was happening. Maybe someone had made a complaint or grievance against me. Maybe I was being formally reprimanded or given a verbal warning, but no! – It was the dreaded worst news an employee could ever hear – yes, it was Redundancy.
"We're sorry to inform you that due to a recent reorganisation and re-structure, your role is now made redundant, and your services are no longer required. As you know, the company has undergone a review of employment levels and your role has been identified as one that will no longer exist. You will receive your pay in lieu of notice (equivalent to 4 week's in my case) and you will be shown out of the building by the HR Manager having had the opportunity to visit your desk and collect your personal items."
It's true, I knew they had been looking to make cuts and headcount changes following the Covid-19 pandemic, but to be honest, I really didn't think it would be my role for the chop. I mean, I've been at the company 12 years and that must count for something? Unfortunately, it didn't.
A new Managing Director had come in and was looking at ways to reduce costs and streamline our activities, I secretly thought he was trying to make a good impression with the other members of the Board, but having thought about it, I realised that it was probably the whole board who had made the decision to make me redundant and probably my boss had not stood in the MD's way. I looked at my Boss and his eyes looked down at the table and he had a guilty look on his face. Had he made a fuss to keep me on at all?, I wondered. Or had he been instrumental in letting me go, sacrificing me so that others could be safe? I would never know.
The HR Manager was communicating to me in carefully-worded messages, but it all just washed over me as the enormity of the devastating news sank in.

She handed me a letter confirming my redundancy and terms and asked "Do you have any questions". Yeah, I thought, "Why Me? Why not Jennifer Andrews from accounts who's totally rubbish at her job?" Jennifer was known to be useless at her job, but well-liked by senior management as she made them wonderful cakes from home. "Why Me?" I thought. "I've been a good employee and no trouble to people. I've done my job to the best of my ability and I think I've done it well, I'm always on time, staying late, always diligent." "This is all so unfair".
Redundancy Emotional Symptoms

It wasn't until after I cleared my desk and travelled home that I experienced overwhelming negative emotions:
Denial: Did I dream that just happened, or was it real? Did they conduct the redundancy lawfully? I didn't receive any real notice I would be affected. It was all so quick.

Panic: How would I pay the mortgage and the bills for the next few months before I find work again – I have a mortgage, a personal loan for my car and a large credit card monthly repayment.

Shame: How will I tell my boyfriend, family and friends. What will they think of it?

Practical: I will cancel my holiday next month to save money and return that dress I bought at the weekend.

Career: This will look awful on my CV. Oh no, I now need to look for a new job, explain what went wrong and sign-on with recruitment agents. Nightmare. I will have to sign-on for Job Seekers Allowance if I don't find somewhere else quickly.

Social impact: I won't see my mates at work anymore.
But then I countered these with some positive emotions:
I don't need to do my terrible journey to work by car and get up at 6.30am to fight the city centre traffic - that's good.

I'll have lots of free time and a few weeks off and be able to spend more time with my boyfriend and family.

I don't need to see my boss anymore. He was clearly not my friend.

I could change my life for the better, maybe a new type of job or relocate to another place. I've always wanted to live by the sea, perhaps this is just the push I need.

Maybe there's a better job out there for me, one I might enjoy even more?
Lawson-West's view:
Trudi has been unfairly made redundant. There has been no consultation, no selection applied or consideration of suitable alternative posts. This is typical of many redundancy situations where employers do not follow the correct procedures.
If you have been made redundant, we understand the cycle of despair and worry. Your previous employer might have handled the situation well, on the other hand, they might have handled things poorly, unfairly and potentially unlawfully.

If you would like to speak to one of our experienced solicitors and lawyers, you can do so free of charge. If you do have a claim against your employer for how they have handled your redundancy, we can help with support and advice.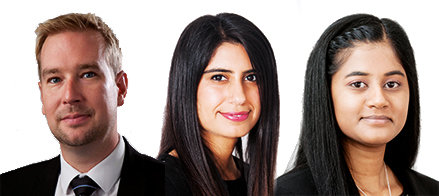 The initial conversation with us is free of charge and we might be able to conduct your case on a No Win, No Fee basis. All our team are extremely friendly and experienced, they've handled every instance of employment claim that can be made, not just locally, but nationally too. You will be in safe hands. Contact Us to discuss your situation.
View all