Negotiating Contracts – What are the key issues to consider?
03-10-2018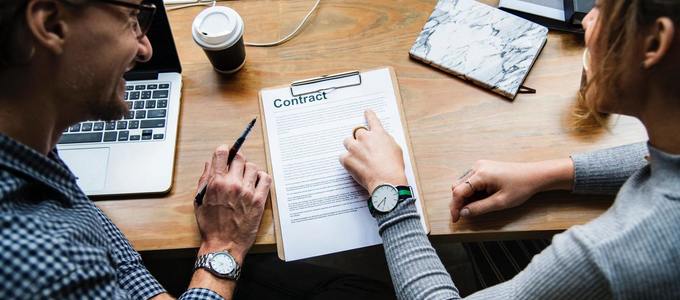 Negotiating contracts is routine practice for any business, it is important that they are documented correctly and cover the key issues you require them to, to avoid any future complications or disputes. This article addresses all types of contracts and provides an overview on the key aspects to think about when negotiating any kind of contract. Whether it's a contract between your company and a cleaning supplier or a business sale contract between yourself, the business owner, and a prospective buyer, the principles remain the same.
A contract is a legally binding agreement between two parties outlining the expectations of one another. If any of the clauses in the contract are breached this is illegal. Before signing a contract, you should read every clause and query anything you do not understand before committing to it.
Who are you entering into the contract with?
Typically, a contract is an agreement between two parties and therefore it is important to be aware of who you are dealing with. It is not essential to know one another but it is advisable to carry out some background research on them before entering into a contract. Depending on the nature of the contract It may be as simple as looking out for any testimonials they have readily available or if the contract is of a more complex nature, carrying out a credit check may be necessary. If the other party is based abroad it is strongly advised that you seek legal advice to ensure that you are properly protected as their rules and regulations may differ to ours.
Why are you entering into the contract?
When going through the motions of negotiating a contract it is crucial to know exactly what you are basing the agreement on and why you are entering into a contract with the other party – what are your expectations of the other party and what are their expectations of you? It is critical that the details of the agreement are clear, accurate and concise and outline exactly what services are to be performed or goods are to be delivered. It is important to remove as much ambiguity as possible from the contract as this is the area where the majority of contractual disputes stem from.
What is required to secure the contract?
As with most business-related issues, finance and timings are key. If there are strict timeframes to be adhered to these must be raised at the outset, if the other party is not made aware of such timings they cannot be at fault which is why it is imperative to make the contract as thorough as you can. The finances surrounding the contract also play an important role and will make up part of the contract itself. What exactly are you paying for, is it the full amount or can you expect to incur further costs along the way; when is payment due and in what format? All of this should be agreed at the start of negotiations to remove any potential confusion. Other items that must also be addressed when securing the contract is whether there are any brand, copy right or intellectual property issues that need to be resolved. Is the other party working for you exclusively, will you be using their brand name at any point, is the work they are carrying out very specialised and unique to your business? If so, make sure you take legal advice to ensure the correct formalities are followed otherwise valuable assets may be lost.
How do I get out of the contract?
It is not uncommon for a contract to be agreed over a fixed period of time with a penalty incurred for early departure, it is therefore worthwhile for both parties involved to decide on the length time you want to be tied into the contract for and clauses to be drafted that outline the process should there be any unforeseen circumstance that arise that require the contract to be cancelled. There is all manner of reasons why you may want to get out of the contract, it could be financial, expectations are not being met or changing business needs. However, remember that if anything goes wrong, the protections in the contract are only as good as the person giving them. If they have no money it will be very difficult to get and compensation, it may be worthwhile therefore to consider asking for extra security such as a guarantee or retention.
The information given throughout this article is of a general nature only. It is not intended to be relied upon in any given situation so, before taking any action, you should always seek appropriate legal advice. At Lawson-West Solicitors we have a highly qualified and experienced Commercial Team who are always keen to share their wealth of knowledge with others. Should you have any queries relating to contract negotiations or Commercial Law in general please do not hesitate to contact the team immediately. You can call David Heys on 0116 212 1027, alternatively complete our online contact form and we will get in touch with you.
View all