Our Christmas Gift to You: Lawson-West's 'Amazing Staff Recipes' book launches today !
23-12-2020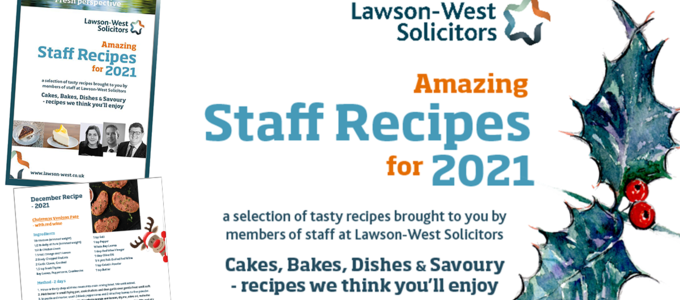 Each monthly recipe takes you all the way through to the end of 2021 and there's something for everyone in our selection.
We really hope you enjoy making these individual
and tasty dishes - we did !

Click on the cover below to open the entire Amazing Staff Recipe book, or save the PDF to your phone or tablet for when you next need inspiration in the kitchen: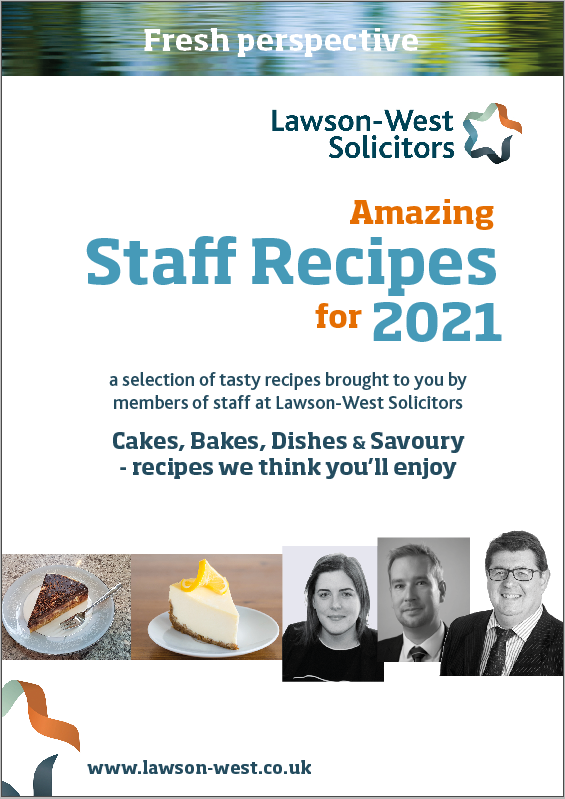 | | | |
| --- | --- | --- |
| Monthly Recipe | Contributor | Name of Recipe |
| Dec 2020 | David Heys | Sheffield Curry |
| Jan 2021 | Rebecca Beswick | Chocolate Orange Brownies |
| Feb 2021 | Hannah Warren | Avocado and Strawberry Smoothie |
| Mar 2021 | Justine Hatcher | Tin Roof Pie |
| Apr 2021 | Ashley Hunt | Mexican Beef Enchiladas |
| May 2021 | Rebecca Beswick | Coffee and Walnut Cake |
| Jun 2021 | Elizabeth Brown | Lemon Posset Cheesecake |
| Jul 2021 | Ann Guttridge | Spicy Cheese Thins |
| Aug 2021 | Emma Piff | Seafood Spaghetti |
| Sep 2021 | Natalie Aldrich | Tray-Baked Pork Chops |
| Oct 2021 | Wendy Andrews | Pear, Stilton and Walnut Rarebit |
| Nov 2021 | Madhvi Panchal | Ginger Fudge with Melted Chocolate |
| Dec 2021 | Rudolph the Red-Nosed Reindeer | Christmas Venison Pate |
View all