LeicestershireLive Business Executive Awards Ceremony 2019
13-11-2019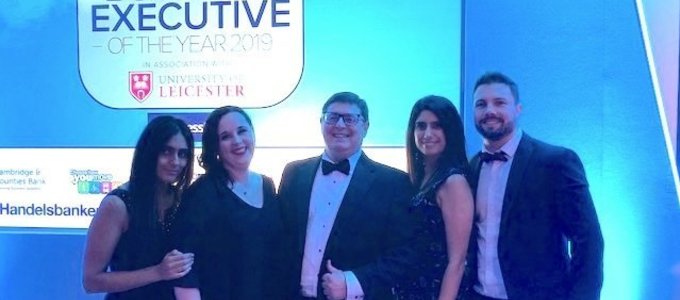 Last night, Tuesday 12th November, Lawson-West Solicitors had the privilege of attending The LeicestershireLive Business Executive Awards 2019 as one of the category sponsors at the King Power Stadium.
The awards have been running for eight years and are a celebration of the most successful owners, managers, CEOs and managing directors from across Leicester, Leicestershire and Rutland and was a truly inspiring event to be a part of.
Lawson-West Solicitors sponsored the Medium Business Executive of the Year award and David Heys, managing director of Lawson-West Solicitors had the honour or presenting the award. The winner was Mick Jenney, managing director of Harrison Castings, in Leicester who was later awarded the overall business executive of the year award too.
With over 100 employees, Harrison Casting as is thought to be the biggest aluminium sand foundry in the UK. Their main customers include diesel engine manufacturers and makers of excavation and gas turbines. Mick Jenney was part of a recent management buy-out of the Leicester foundry and has big plans for the future as they look towards growing exports, entering new markets and diversifying.
David Heys was a member of the judging panel for this year's awards and said, "judging had been incredibly hard considering the outstanding qualities of all of the finalists".
With regards to the winner of our category he went on to say "Although it is early days for the Harrison Castings MBO team, the MBO itself has been made possible by Mick's achievements as managing director for the last six years. Harrison Castings is very much a local success story and should encourage smaller businesses."
The evening was a delight to attend and has certainly become a highlight of the local business calendar. Congratulations to all of the finalists, the wealth of achievement was outstanding, Leicester certainly has some fantastic businesses and business people to celebrate.
View all